What is Profit Magnet? Is it possible to turn $11 into $220 every hour? Is it possible to earn $1000 every day by just working 5 mins a day? Is it possible to earn so much money in a single month that enables you to buy your dream house and your dream car? You will find the answers of all these questions in the detailed review of this new online binary options trading scheme.
What is Profit Magnet?
What exactly is Profit Magnet? It is an automated trading bot software that enables you to turn $11 into $220 every hour. The landing page of the website claims that only 87 people who are the members of this system can say that it is true. The software is claimed to be owned by a person named Aaron Martin, who says that he is giving this software free to only 20 people per day for only 5 days. This scam service came out in December 2015 but interestingly enough the day you will open the website, it will still say today is the last day and you are the lucky one to get this opportunity so you need to act now. However, if you will open the website again the next day or after a week or even after a month, you will be surprised that it will be saying the same thing that today is the last day. The reality is that all this is just another scam to fool people of their hard earned money.
Who can use Profit Magnet?
As per the claims of this auto trader software, anyone can make use of this software. There is no investment required to be the part of it. All you need to do is to create your free account on the system and it will give you access to the system. It says that no prior knowledge about binary options is required to use this system and even a newbie can use it and earn like pros using Profit Magnet. How it can be true? If you have a little knowledge about Binary options trading, you should know that it is impossible to earn $1000 per day using binary options, because to achieve that it requires complete expertise of the trade that comes with years of experience and consistent efforts as well as it requires accounts with larger sums. So the claim that even newbies can make $1000 per day and that to with initial investment of just $250 is too good to be true. We highly recommend not to fall in the trap of such bogus claims and lose your position in the business.
All our readers are advised here not to fall victim of this another scam known as Profit Magnet that is nothing but another get rich quick scheme that obviously is full of lies. It tries to create a false impression on its viewers that they are the last one who is getting the chance of getting access to this free software and start earning $1000 per day. It gives false hopes to viewers that they can leave their job, purchase their dream house and dream car and go on their dream holidays with family just within a month of using this software. It also shows the income proof of 20 people who it claims to have registered with the system just a day back and shows the average income $2767.27 in the first 24 hours.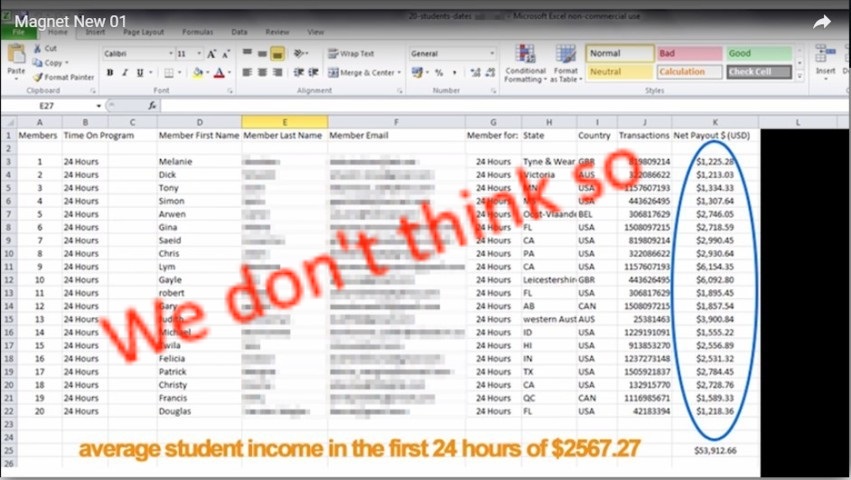 What will actually happen is that you will end up losing your hard earned money so please BEWARE. I have been scammed by these such websites myself many times and that is the reason I've started www.binaryoptionstested.com to bring awareness and blacklist them all. See the Mega BlackList list that I'm compiling, its getting longer everyday. It is important to do little bit of research on something if you are going to invest in anything.
Binary options aren't bad but Profit Magnet is!
There are several loop holes in this binary options service that are evident from watching the video on the single paged "website". The video will tell you that you can make $1000 in the first 24 hours of using this system. It also says that this opportunity is for only 20 lucky people per day for 5 days only, after that it will be a paid software. All they need is to register for free on the website and it will take then less than 87 seconds to do this. These are all bogus claims made by bogus people. Binary options trading is a lucrative trade but it needs patience and no auto trader can enable a person to earn $1000 with 98% accuracy as claimed by it. The truth is that even the most successful auto trading software as an accuracy rate of 60-70% hardly. There is no explanation in the video about how this scheme works and how it can predict market movements so accurately.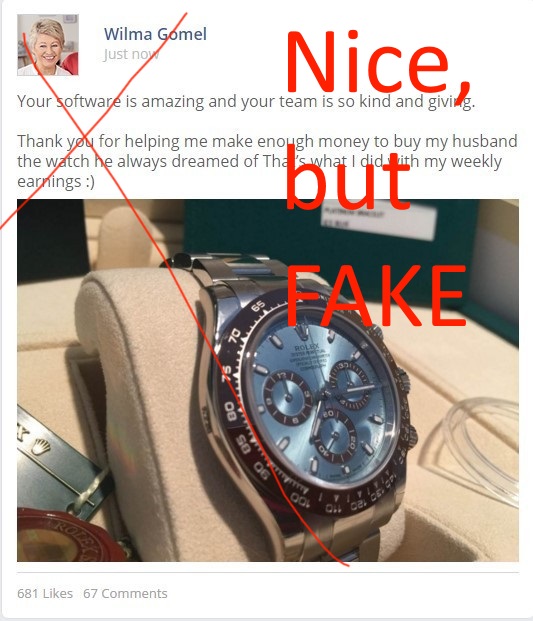 Not only the claims made in the video are false, but the people behind the creation of Profit Magnet software are also false identities. There is no person names Aaron Martin. And it clearly proves that this is just another scam and nothing else. We strongly advise our readers to stay away from such dangerous auto pilot softwares which are trying to create false impression in the minds of viewers. Never rush to a decision in a hurry and check the reviews before taking any decision.
All readers are informed to be sceptical of offers like the Profit Magnet which promise get rich quick schemes. I plead everyone to stay away from such websites. Stay safe and opt for a legitimate & regulated website to help you make money online with Binary Options/forex. There are different regulators which monitor financial services products within their country for example CFTC in America, FCA in UK, ASIC in Australia. See our list of all financial services regulators by country.
Profit Maget features:

   Using unregulated broker


   Fake trust badges on website


   Get rich soon promises


   High risk to scam


   No proof of earnings


   Featureless members dashboard
More bad
The so called owner of this auto-pilot claims that he and his brother named as Jake created this system with their skills. Another false name used in the video is David Brookes whom the Aaron Martin introduces as his personal broker. All these characters are complete lie. Further the video tells that today is the last day to get this software for free and from tomorrow it will cost $997 set up + $59 per month. It is another trick of luring innocent people.
There are other better binary options trading services available but many of signal services coming out these days are useless. Among the many auto trading software services available I would caution against signing up with an untrusted service. There are few good regulated binary option services which you can sign up for. I have to put this service on my blacklisted trading services. Feel free to email/fb me or comment in form below for more details about this service.
Binary Options Tested is a safe website in which I have strong security by using firewall and IP protection to keep it safe from website attacks. I also have SSL security in place for encryption to make everything you see on my website safe and secure so you can be sure everything is authentic here.
Kaur's Conclusion:
After all the analysis it can be concluded that this auto trading software is just a scam. No software can predict the market with 98% accuracy and enable you to earn $1000  in a day. You can earn money using binary options but only with your hard work. Do not fall prey to such illegitimate software stay away from such false claims. Reading reviews is of very importance to stay safe in order to make money online. I hope our readers would agree. Stay safe and visit our recommended services list to find best working auto trader or broker.

Verdict

: Profit Magnet 

is an unmagnetized SCAM!!
More scam services be to aware of: TokyoBot, 300 Dollar Trade, Drexel Code
Any Questions? contact me on

 [email protected] or comment below with your question. Easy!

Telegram Crypto+Forex Signal Service https://t.me/eztradingschool_bot
[starbox]

Summary

Reviewer

Review Date

Reviewed Item

Author Rating