What is exactly "My First Online PayDay"? How does my 1st online pay day work? Could this be a scam? Read below to discover all the red flags.
Details about My First Online Payday
Created by a fake identity named Jeremy Mathews who is a paid actor to promote this money making binary options scams to con people with their hard earned money because the fact that there are a few binary options trading websites with which you can actually make some money but this "My First Online PayDay" actually wants to discredit the industry by thievery and to be honest a very bad one.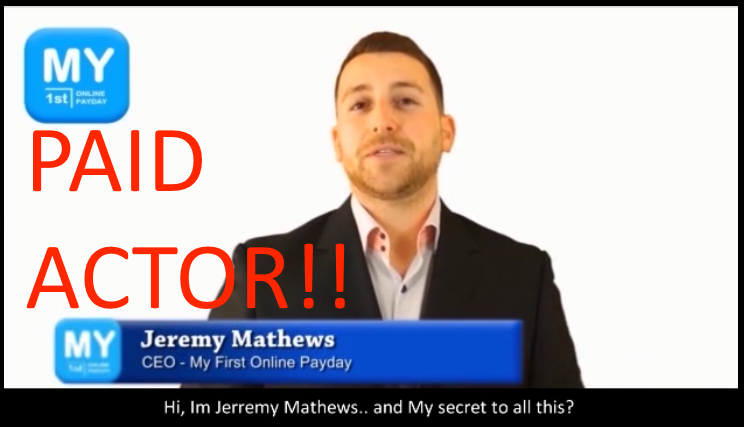 After checking the website within matter of minutes it was very clear that this "My First Online PayDay" is a SCAM but of course inexperienced people would most likely watch the video posted on their website, get convinced and fall into the trap. This binary options scam was probably made in a hurry without any thoughts to capture the most gullible innocent people out there looking to invest their money to grow their savings. The "My First Online PayDay" platform offers tens of thousands of dollars within matter of weeks and without having any knowledge, experience or expertise in binary options trading to begin with.
a BIG WARNING!!! – Do Not sign UP with this SCAM!! – "My First Online PayDay" binary options platform. You may look at the website watch the video think what you think and perhaps just close it but DO NOT GET CONVINCED AS IT IS A BLATANT SCAM!  Jeremy Mathews is a fake paid actor and that's not even his real name.
Usually Binary Options Tested opens account to test drive and trial run to see if the particular binary options platform is making any money and I review it and share it but there was no way I was going to even open account in this scammy service so called binary options website. The website doesn't even function properly. All the links given are fake and inoperable.
In the online news clip you hear presenter talking about making hundreds of thousands of dollars. Could this be true??? Whether it is true that people are working from home making money online with different things it is not clear that how and which services are truly the right choices.
I shouldn't even waste any more of my time reviewing this fraud but to think about it this is exactly why Binary Options Tested is here to protect consumers to kill of such website so that genuine binary options can thrive. Do not trust any website that you just visit. Read my reviews and check with my binary options blacklist here to before signup with anywhere. There are only handful of trusted binary options traders so you can check the trusted binary options here.
All of the testimonial people presented in the only video made are all actors. Rebecca Martinez and Any Tan are jobless trolls who would do anything for bit of money. They would even lie blatently knowengly that this would harm others. There are some of these actors who have constantly appeared repeatedly in different scammy binary options websites testifying different fake scam products and services.
The news, markets, watch live etc all links are fake and non clickable. It looks like there is only one page with video and registration page which only aims to get you started to get "account opened" to take your money. Below is list of all the fake links which DOESN'T work.
Maybe they are just not bothered to work on the look of the website and paying all their focus on the development of the trading platform????
Important Note about the free $50: You can actually start trading with the free $50 given to you upon registering but you cannot withdraw it straight away. You have to do atleast 20 times with the given $50 first before you can withdraw it. For example as you place positions in binary options you win some trades and lose some trades so your balance will fluctuate if however you do not hit zero and whatever your balance remains after having done the 20 trades you can then withdraw whatever balance remains in your account. Read about accepting bonuses from brokers here to find out more.
The $50 offered is like bonus which some brokers will give you sometimes during seasonal sale to bring new clients on but the problem here is that the website is a scam and even if they give the $50 you would lose it away gambling like you would with your own deposited money. Jeremy Mathews (a fake identity) does not have any show on ABC or any appearances on any of the news channel. My First Online PayDay is not a legitimate binary options trading website so best to stay away
After playing the 20 free trades the website popped up with this guy telling me that the only way I can withdraw the $360 was to first deposit $250 hmmmm. The continue button was dimmed out and I couldn't press it until the 120 seconds were elapsed so I decide to wait. After two minutes I pressed and I was brought to Bloombex page where my balance was still zero! I checked in positions tab and there were no positions placed so I can definately say for sure that the 20 trades which I did on My First Online PayDay were not registered in Bloombex at all and the website were telling me lies all along.  I would say if you really want to spend the $250 then I would just open account directly with Bloombex instead!!! Click here to open account with Bloombex now. They even have live chat and everything.
My First Online PayDay offers:

   Unregulated scammy broker


   Website has non working links


   Have to deposit $250 investment amount


   Unknown underlying assets on which trading is being done
BOT's Conclusion:
This is a super scam by online cheaters. Their website is filled with dead links, fake testimonials, fake time counters, fake bus ads, scammy brokers and what not. are fake trust icons and dead links inside their members page. Help yourself and do not invest in this scam. Stay safe and visit my recommended services list to find best working auto trader or broker.
BOT's Verdict: My 1st Online Payday is a SUPER SCAM!!
More scam services be to aware of: The millionaire BOT, TrianaSoft, Drexel Code
[starbox]
Summary
Reviewer
Review Date
Reviewed Item
Author Rating