This straight out of "hollywood" binary options trading scam made by professional scammers who has done a high budget sales video to reel in investors and traders alike to buy into this auto trading software. Is WikiTrader worth your time? Read this WikiTrader review to find out all details.


(3 / 10)
Scam Website: http://wikitrader.co/ Their website quality is bad.
WikiTrader scam review
WikiTrader is an Auto Trader software which trades automatically on your behalf. The software works like a robot which knows when and which trades to take bringing a profit. Unfortunately not all auto trading robots perform well. Whats also important that the binary options brokers associated with the broker are trust worthy. Before signing up with any auto trader make sure you checkout the broker which has been assigned to you. We recommend regulated binary broker or atleast a trusted binary options broker so that your account balance is in safe hands. Checkout our best binary option brokers.
How much WikiTrader system cost?
WikiTrader may claim to be either free or giving away bonus balances. Soon or later their associated broker account will need to be funded by money which can be $250 or more. That is ok but the problem is that they might be using untrusted brokers. Even if they were to use trusted or regulated brokers, there hasn't been any proof of WikiTrader software to actually work.
She warmly welcomes her viewers to her world. Kelly Wallace is the enigmatic woman behind Wiki Trader. The sweet talking woman says that her company has invest in things like Hyperloop and plenty of bizarre things.
Kelly Wallace the professional woman who is sizzling in the whole WikiTrader sales video in order to get your credit card out
She's on her way to catch a flight, we wonder where? Because it's not like she needs to go to another city to get to work. A car should have been enough.
Does this look like someone who would invest in things like hyper loop and space travel?
We are guessing she needs to show off a little by getting a ride on some rented jet plane. Kelly Wallace, which is not her real name, talks about secret to financial freedom which we all know bout but only some of us actually found it.
Then Miss Kelly shuffles though some papers claiming it to be some kind of financial reports holding tons of profits. We find it all hard to believe. To our readers so called Kelly Wallace has appeared in numerous other scam videos in order to get people to sign up with binary options brokers.
She claims all of her system users are making at least $35,000 a month and her system users are all millionaires for using it for less than one year.
So how is that even possible since WikiTrader website is only one month old we wonder? Lets do the math 35000 multiply by 12 months is equal to 420,000 which is less than half a million. Hmmm…. It's a fail.
Yes we all deserve to be happy but not by giving our money to her!
Kelly wants her viewers to visit her small under cover team at the head quarters. Why is it such a secret? Is it because it's a SCAM?
Kelly Wallace is looking to invite 100 people to join "this secret co-op and try out latest update to WikiTrader software". Wow, they want other people to invest money to TEST THEIR SYSTEM(and wait for it), for FREE!!!!. haha, dream on scammers.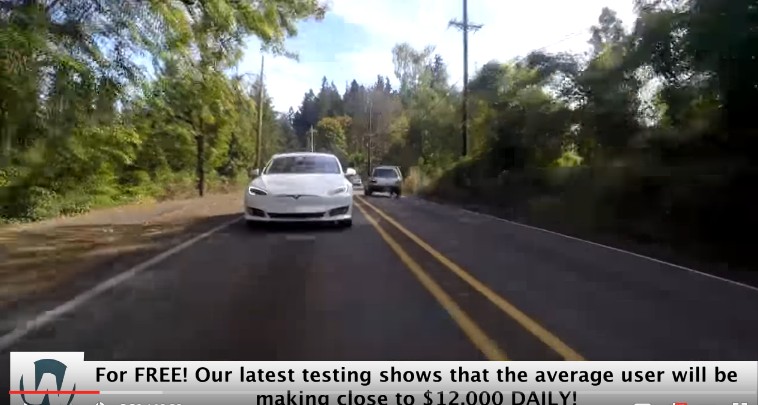 Interestingly enough Kelly now reveals that her latest testing shows that average user will be making a close to $12,000 daily! LOLOLOL. Miss Kelly Wallace just went from giving away $35000 a month to $12000 daily! Hmm, that would be hmmmm is that $360,000 a month. wow holy f, we are totally blown away by her tight BS.
People who are vulnerable and need money would believe anything and risk the money they have believing that might just work
Kelly Wallace from WikiTrader goes on forever in this in depth high class video to stream away uttering one lie after another, until viewers are either sick of being so hard that they want to turn it off or keep watching to let pain flow deep into the veins. At least that is what we have experienced.
We like the video production because of it's professional look, fancy car, hot presenter, touch of power with it's jet, but the thing is videos such as these shouldn't be taken seriously because they just looking to put in your money into a non existent system.
Is WikiTrader Auto Trading Software a Signal Service?
WikiTrader is suppose to work like an automated trading software upon which binary options trading are conducted on user's. Auto Trading Softwares work similar to signal service which predicts which trades could be winning on the other hand signal service simple tells you this information without placing the trades i.e you have to place trade yourself.
Should I get started with WikiTrader?
WikiTrader has scored low enough on Binary Options Tested's scoring system which has earned it as scam status. There are many scam money making schemes which are based on binary options trading but they actuall either don't work or connected with scam binary options brokers. It is not recommended to use WikiTrader. Instead we ask you to seek alternative. If you really insist to use WikiTrader its your choice. Do let us know the results in the comments with your trading experience with WikiTrader so others can benefit from it.
Could these be scams too, Check them out

MS Management Software does it make any money?
,
Gates Way – Did Bill Gates do this?
,
United Trading
,
JMB Profit Machine
,
Trading Everest
,
Bahama Banker
,
Fintech Limited
,
BOMillionaire
,
Quantum Profits
,
Lazy Trader App
,
CogniTrade
,
Leaked Profits
,
Spectrum7 Software
,
Nuvo Finance
,
Genius Profit Initiative
,
VenaSystem
,
Intellix Systems
,
Penny Millionaire
,
WikiTrader
,
Tesler App
Signup with Best Brokers Click Here
Signup with Best Signals Service Click Here
WikiTrader review summary
WikiTrader may not be what you are looking for. To be honest there are so many fake auto traders and very few which might make you some money.
Details:

| | |
| --- | --- |
| Starting Balance | 250($€£) or major currency |
| Realistic profits | No |
| Get rich quick scheme | Yes |
| Compatible Brokers | Starling Capital |
Conclusion of WikiTrader scam review
In the end WikiTrader is another one of those fancy scamming video to put you out of pocket while they continue to fund their high class lifestyles. We do not recommend signing up with such "system" which is all talk and no proof of it's existence. Go to best auto traders to see which have much better chance of you making any money.
Verdict: WikiTrader is a large scale Scam
WikiTrader is rated 3 on scale of 0/10 by BOT
Scam Website: http://wikitrader.co/
RISK WARNING: YOUR CAPITAL MIGHT BE AT RISK
Better Alternative to WikiTrader
Select Another
Auto Trading Software
Or
contact us
for Free Support
Or Get Signup Deals By Email