This another scam guarantees you "439 consecutive days of profit" Lets break this apart and find out exactly what is going on… Is The Cash Loophole worth your time? Read this The Cash Loophole review to find out all details.

(3 / 10)
Scam Website: http://thecashloophole.co Their website quality is ok.
The Cash Loophole scam review
The Cash Loophole is an Auto Trader software which trades automatically on your behalf. The software works like a robot which knows when and which trades to take bringing a profit. Unfortunately not all auto trading robots perform well. Whats also important that the binary options brokers associated with the broker are trust worthy. Before signing up with any auto trader make sure you checkout the broker which has been assigned to you. We recommend regulated binary broker or atleast a trusted binary options broker so that your account balance is in safe hands. Checkout our best binary option brokers.
How much The Cash Loophole system cost?
The Cash Loophole may claim to be either free or giving away bonus balances. Soon or later their associated broker account will need to be funded by money which can be $250 or more. That is ok but the problem is that they might be using untrusted brokers. Even if they were to use trusted or regulated brokers, there hasn't been any proof of The Cash Loophole software to actually work.
The landing page will welcome you with "congratulations that you have been personally invited" which is a complete lie, anyone with the landing page link can visit the page including pressing this link right here. They did not mention my name or I did to deserve this "opportunity".
According to their scam money counting video they have two rules
Under no circumstances you should share this "confidential" video with anyone.

(What nonsense, if its so confidential then why it's on website!!)

Put away your credit card because you won't be needing it.

(What a blatent lie, look below we have put the credit card form field which comes up in second page.)
Lies lies and more lies. There is no membership system. Don't be fooled.
The video says it's available in only 9 countries. I'm traveling right now and I can tell you it's open to ALL countries.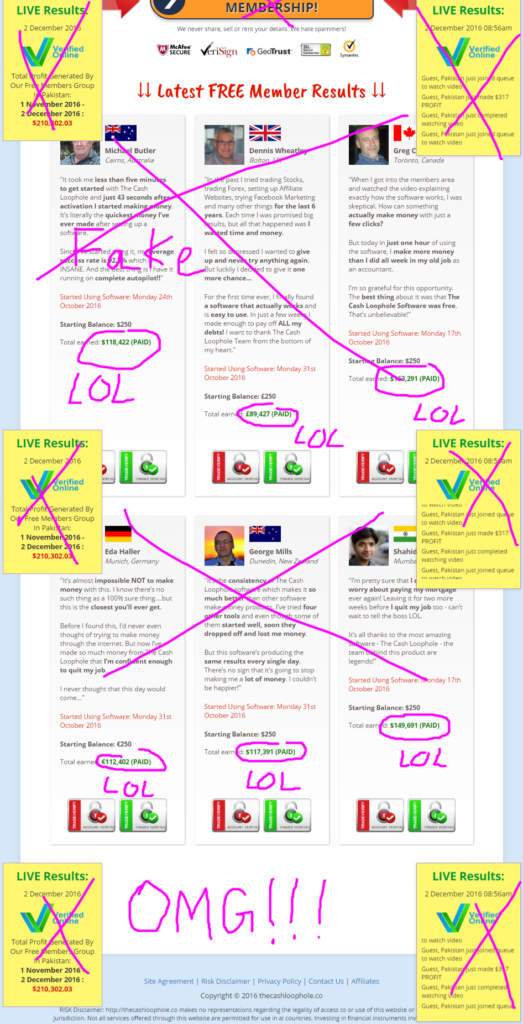 Below you can see fake testimonials
There's no such thing as free lunch in this world. They have clearly mis-advertised it to scam you to get you to sign up but well hello it's not free at all. Honest services never do such acts.
 These are our thoughts about these fake testimonials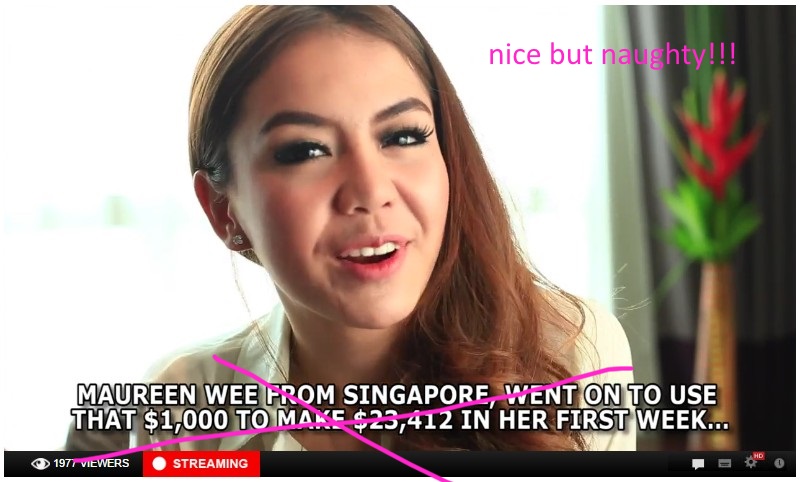 Her name may be Maureen Wee from Singapore but she clearly isn't happy about the numbers that he said to be making in her first week, she's just happy to be on camera. Smile!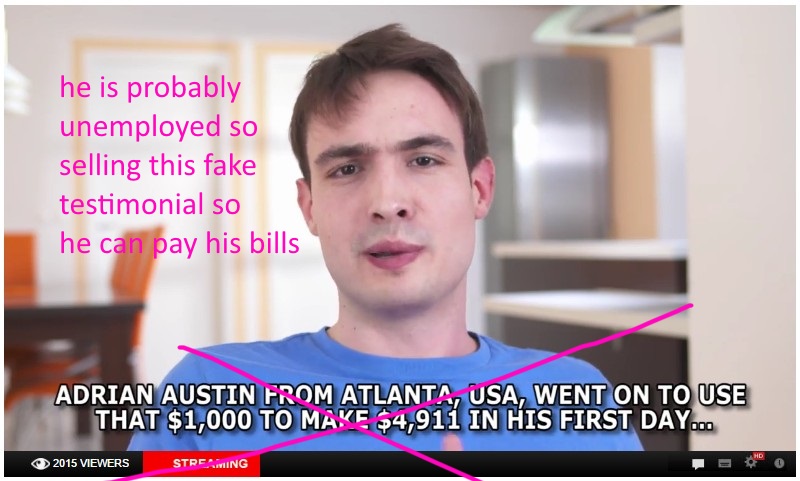 Adrian Austin from Atlanta, hmmmm we are just wondering what kind of name is that. I mean yes Adrian can be a guy's name and Austin is also a name and specially capital of state of Texas but this name seemed suspiciously fake so we decided to search on Facebook but there was no one with that name. We hardly know anyone these days who doesn't have Facebook profile even if they don't use it. If this guy is really rolling it big then you definitely need fb account to brag with your friends about the things you are buying but no nada not found on Facebook. It's safe to say this testimonial is super fake.
Mr. Steven Ferdinand from London…looks genuinely fake because he is good at talking I guess that's why he's got this job of chattering in front of a camera.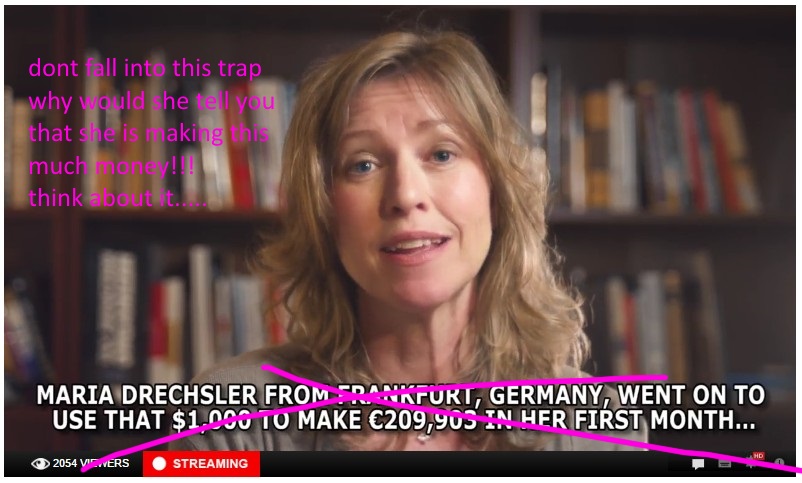 "Maria Drechsler" from Frankfurt, Germany isn't what she says she is because she isn't.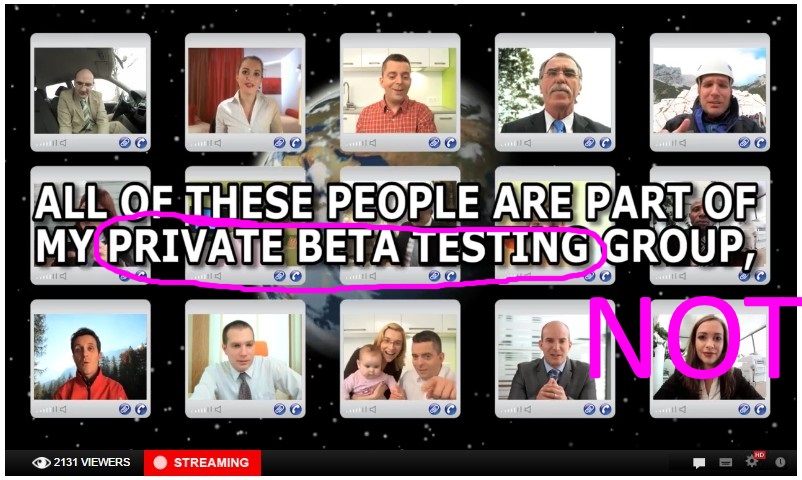 All these people are making money from The Cash Loophole, we can clearly see from this live streaming to the world wide web where there are 2131 viewers watching this. I thought they said in beginning of the video that this is a confidential by private invitation only. Don't believe their lies, they have been exposed.
There is no sign of any broker what so ever. A total scam. The website is not secure and they want you to put your credit card into it. That's number 1 rule of buying anything online to look for secure lock next to www as https: on your browser url whether mobile, tablet or desktop.
Is The Cash Loophole Auto Trading Software a Signal Service?
The Cash Loophole is suppose to work like an automated trading software upon which binary options trading are conducted on user's. Auto Trading Softwares work similar to signal service which predicts which trades could be winning on the other hand signal service simple tells you this information without placing the trades i.e you have to place trade yourself.
Should I get started with The Cash Loophole?
The Cash Loophole has scored low enough on Binary Options Tested's scoring system which has earned it as scam status. There are many scam money making schemes which are based on binary options trading but they actuall either don't work or connected with scam binary options brokers. It is not recommended to use The Cash Loophole. Instead we ask you to seek alternative. If you really insist to use The Cash Loophole its your choice. Do let us know the results in the comments with your trading experience with The Cash Loophole so others can benefit from it.
Could these be scams too, Check them out

United Trading
,
JMB Profit Machine
,
Trading Everest
,
Bahama Banker
,
Fintech Limited
,
BOMillionaire
,
Quantum Profits
,
Lazy Trader App
,
CogniTrade
,
Leaked Profits
,
Spectrum7 Software
,
Nuvo Finance
,
Genius Profit Initiative
,
VenaSystem
,
Intellix Systems
,
Penny Millionaire
,
WikiTrader
,
Tesler App
,
Lexington Code
,
Profit Replicator App
The Cash Loophole review summary
The Cash Loophole may not be what you are looking for. To be honest there are so many fake auto traders and very few which might make you some money.
The Cash Loophole info check:

| | |
| --- | --- |
| Testimonials | Fake |
| Possibility of scam | Very High |
Details:

| | |
| --- | --- |
| Starting Balance | 250($€£) or major currency |
| Realistic profits | No |
| Get rich quick scheme | Yes |
Conclusion of The Cash Loophole scam review
This is another scam with same good old re-branding with no proof of any profits or any working system behind it what so ever. This Cash Loophole is more of a cash hole, save your money and try something much better to waste your money on like buy two hundred and fifty popsicles of different colors. Go to best auto traders to see which have much better chance of you making any money.
Verdict: The Cash Loophole is a another same crap landing page type Scam
The Cash Loophole is rated 3 on scale of 0/10 by BOT
Scam Website: http://thecashloophole.co
Better Alternative to The Cash Loophole
Select Another
Auto Trading Software
Or
contact us
for Free Support
Or Get Signup Deals By Email