What is "Lie Detector Millionaire" all about. Why is there a lie detector polygraph test being shown in an investment product? Read the detailed review to find out.
LDM Software(Lie Detector Millionaire) is a nothing short of a scam. This scam movie starring actor Daniel Wilkins brought to you by online fraudists groups who operate from unknown locations. Their main job is to go around and shoot fancy convincing videos like these to get ordinary people to fall into their trap of giving their bank account details to them. They slide around few screen of some stupid charts or blurred out fake pictures of alleged trading accounts showing hundreds thousands and millionaire of dollars.
They do not have a business. They are not regulated. They do not have support. They are not trust worthy. They are not registered. They are not licensed. I have been scammed to many times and that is the reason I've started www.binaryoptionstested.com so that I can stop this deceit and bring back the old fashioned honest dealing. I don't believe for a second that companies who follow the rules go around driving in a range rover to convince people to put in "investment" into their well orchestrated swindle.
Sure binary options is a risky business no one is denying that. However these fraudsters use rigged software systems to make the account holders lose their investment. There are so many complains about it and rather than moving towards honest business practices to make this industry better they are making it worse by coming out with sh** like this.
The actor calling himself Daniel Wilkins claims working with some Trader X company which obviously doesn't exist. Their sales pitch is just fueled by human greed factor to get you to sign up. As someone has said "As Long as Greed is Stronger than Compassion, There Will Always Be Suffering." Rusty Eric. No one has become rich over night trading with binary options. You can make profits but you have to learn and gain a lot of experience in overtime before you start making money. In this video they clearly said that you do not need experience which is a blatant lie.
If you think you can earn $498,561 by using The Lie Detector Millionaire in one month then please stop reading this and go for a walk and ask yourself which planet are you on. Come back when you have learned difference between day and night. I have seen enough scam complaints so that is why I want readers like you to open their eyes.
There are other better and definately honest binary options trading services available out there. All you have to do is look. All the endorsements on their website are fake stolen pictures. These scammers are sending emails out to various countries including Australia, Canada, Ireland, New Zealand, South Africa, United Kingdom, United States. If you reside in any of these countries then watch out for spam emails from them. Save yourself and simply delete or move the email to spam folder.
Majority of the online signal services coming out these days are useless. Among the many auto trading software services available I would caution against signing up with an untrusted service. There are few good regulated binary option services which you can sign up for. I have to put this service on my blacklist trading services. Feel free to email me or comment in form below if you have more details about this service.
Lie Detector Millionaire:

   No proof of trading


   Get rich soon quick scheme


   Staged lie detector test


   Using unregistered scammy Broker
BOT's Conclusion:
Don't even think about signing up with this service because you won't make a dime out of it.  Stay safe and visit my recommended services list to find best working auto trader or broker.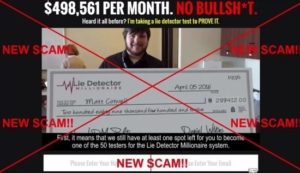 BOT's Review

:

Lie Detector Millionaire

 is a SCAM!!
More scam services be to aware of: TrianaSoft, My 1st online payday, Drexel Code
Any Questions? contact me on

 [email protected] or comment below with your question. Easy!

Telegram Crypto+Forex Signal Service https://t.me/eztradingschool_bot
[starbox]

Summary
Author Rating
Brand Name
Product Name