After seeing Insured Profits, I wondered. Don't we all want to make thousands of dollars a day? What if we only had to work half an hour every day to do this? Some of us would jump at the opportunity, while others would step back and sceptically wonder: "is this too good to be true?" It could be hard to tell which people were actually correct for a lot of us, and unfortunately, that's why so many people have been reporting a new product on the market as a scam. You will find the answers of all these questions in the detailed review of this new online binary options trading scheme.
What is Insured Profits?
The product in question, is a computer program that is advertised as one that can make the user thousands of dollars a day by using a special formula to facilitate profitable trades for investors in binary options. In the world of binary options, it's true that you either gain profit or lose what you invested to begin with, but it's almost hilarious when "Dave," the speaker in Insured Profits' sales video and self-proclaimed creator of the ideas behind the software, begins to explain binary options trading as nothing more than a coin toss. In fact, binary options trading and navigating the stock market are all about learning to make moves that are as far from flipping a coin as possible. Dave tells us that he's created a program that always "insures profit" and minimizes losses in a system that promises a profit of twenty dollars every trade that profits and a loss of only two dollars every time an investment fails. Hmmm…….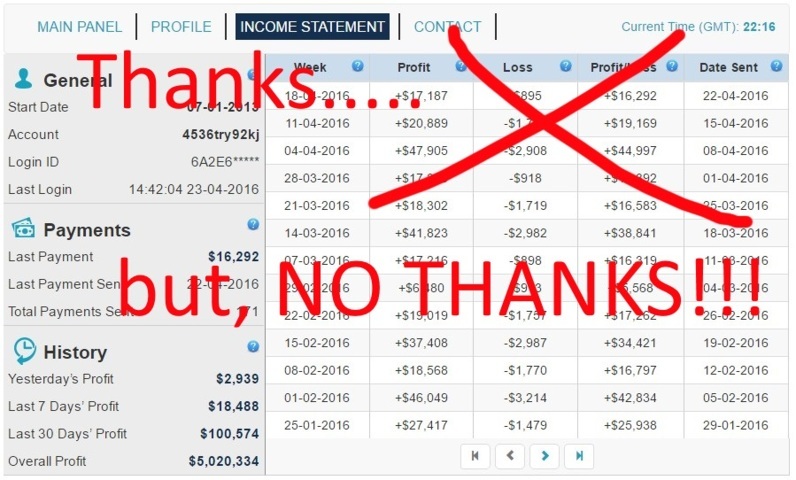 It is widely recommended that people do not try to download this software or give any personal information to the scammers. They are making money by referring viewers to a brokerage of their choice, which earns them commission. Most likely, the software itself doesn't even exist, as there's no way to download it before the brokerage registration is complete. Most brokers require a deposit of at least $250, and other reviewers have already seen that the brokers they want you to register with are rotated often. All this is very indicative of a scam.
Should I give Insured Profits a shot?
At first glace, their website is pretty well-made. It has a website agreement link, a risk disclaimer, and a privacy policy. All these links are functional and seem very real. There's an area where you can watch "over 1,000 video testimonials" in support of the product, but it isn't an actual link. Rather, it's a loop of people saying things about making money (and never mentioning Insured Profits or binary trading by name) that replays after a few minutes of watching. There's an "income statement" towards the bottom of the home page that is supposed to show how much Dave makes every day from using the software. Meanwhile, as we've been scanning this home page for this software, Dave has been talking to us in his video.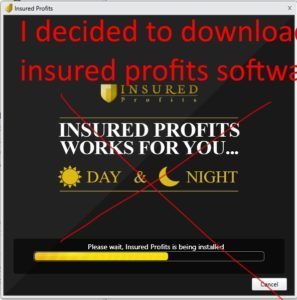 The sales video opens with Dave introducing you to his "brother-in-law, Andy" who is filming the video, and his "beautiful wife, Ginny" who seems to pop in only to grab a mug from the table in the camera shot. The scammers want you to think that the speaker is the trustworthy type by making him look like a family man. He says the viewers that a this coin flip is essentially the same thing that traders do every day.
There are other better binary options trading services available but many of signal services coming out these days are useless. Among the many auto trading software services available I would caution against signing up with an untrusted service. There are few good regulated binary option services which you can sign up for. I have to put this service on my blacklisted trading services. Feel free to email/fb me or comment in form below for more details about this service.
Furthermore, he states, a game of flip-the-coin that's very skewed in your favor is essentially what he's managed to do in trading and wants to do for you, the viewer. He introduces us to "Steve," a guy who we see for a moment on camera waving his hand as he taps on a computer. We don't see Steve's face, but we're told he created a software program that made them $2700 a day in about thirty minutes of work. We're told that the this binary trading program gets its name from the fact that it works to always make sure your profit can only go up, and never down. The actor explains that he's choosing to tell us about the program because he and his wife remember what it was like to be broke and poor themselves, and they want to "pay it forward." He sounds more and more trustworthy by the minute!

What will actually happen is that you will end up losing your hard earned money so please BEWARE. I have been scammed by these such websites myself many times and that is the reason I've started www.binaryoptionstested.com to bring awareness and blacklist them all. See the Mega BlackList list that I'm compiling, its getting longer everyday. It is important to do little bit of research on something if you are going to invest in anything.
A professional scam!
Then Steve begins to take the viewers through a "presentation" that states the same idea over and over again: that your losses will always be marginal compared to your gains if you use the software, and that you can easily make thirty to forty thousand dollars a week, hilarious. Steve states that they're only looking for people who are one hundred percent committed to the idea, and goes on to name other traits they're looking for in people who want to take the "once in a lifetime opportunity." This is intended to make the creators of the scam sound like they're more selective than a scammer actually would be, as if they were truly looking for certain types of people to "work with."
All readers are informed to be sceptical of offers like Insured Profits which promise get rich quick schemes. I plead everyone to stay away from such websites. Stay safe and opt for a legitimate & regulated website to help you make money online with Binary Options/Forex. There are different regulators which monitor financial services products within their country for example CFTC in America, FCA in UK, ASIC in Australia. See our list of all financial services regulators by country.
Insured Profits features:

   Unregulated broker


   Fake testimonials


   Get rich soon promises


   High risk to scam


   Useless windows software which mimics website
Fake proofs
Proof of bank accounts and records are given as if they're screenshots of the software doing work. Something like this would be very easy for anyone with rudimentary Photoshop skills to create. We also see photos of fake bank account statements. Steve spends the rest of his time just talking about what it's like being extremely rich. He then implores the viewers to "never abuse the opportunity" and "never forget those less fortunate than you" and tells a story about what it was like to "give back" to charity as well. Again, all this is meant to make Dave sound like a very trustworthy man. He's probably a paid actor. There is no way, at any point, to find out his last name or any information about him that could confirm he has any credentials.
Binary Options Tested is a safe website in which I have strong security by using firewall and IP protection to keep it safe from website attacks. I also have SSL security in place for encryption to make everything you see on my website safe and secure so you can be sure everything is authentic here.
Sarah's Conclusion:
Though Dave, Ginny, and Steve all sound and seem like nice people in the videos, and though it sounds great to be able to make millions in months, It's certain their website is a scam. That much profit with so little work and knowledge is something seasoned binary options traders and brokers know can't happen, even with the most reputable software out there. Those who aren't very knowledgeable yet in the world of binary options trading are the ones who are being targeted by such binary trading scammers like Insured Profits. When it comes to investing your money, it's very important to research the tools you use carefully. Happy investing!

Verdict

: Profit Magnet 

is an Un-insured SCAM!!
More scam services be to aware of: TokyoBot, Profit Magnet, Drexel Code
Any Questions? contact me on

 [email protected] or comment below with your question. Easy!

Telegram Crypto+Forex Signal Service https://t.me/eztradingschool_bot
[starbox]